Whenever we think of any writing aid tool, the most common name that comes to everyone's mind is Grammarly. But have you ever wondered if there are any better or similar alternatives to Grammarly?
Although Grammarly provides the best service, it's expensive at times. Students especially have to think twice before buying a subscription. Therefore, I have shortlisted some of the best Grammarly alternatives with both paid and free options. Keep reading till the end to find out which substitute you think will be best for you.
A Brief Overlook Of Grammarly And Its Features
Grammarly is an internet-based or online writing aid tool that helps you write error-free. Grammarly, as the name says, points out every simple grammar mistake in your content.
But Grammarly is more than just pointing out grammar and spelling mistakes. It helps with the perfect word choice, improving sentence structure, tone, writing engagement, clarity, etc. Grammarly provides all these suggestions in real time as soon as you paste your content into the tool.
Grammarly is available as a web tool, app, and browser extension. Besides that, Grammarly is also available as a mobile app making it convenient to use on the go.
There are different Grammarly plans- free, premium, and business plans. The free plan, as the name says, is completely free to use. But of course, it has its limitations. It only shows basic grammar and spelling errors or suggestions.
The free version also does not have the plag check feature. The premium and the business plan contain all the advanced features I just mentioned, as these are paid plans. The premium plan costs around $12.5 per month when you opt for the yearly paid plan. The premium plan is a little expensive for individuals, but it's worth buying as it helps in writing perfectly.
Now let's go ahead and see the Grammarly alternatives you can use.
Top 9 Grammarly Alternatives You Can Try
These are the best nine Grammarly alternatives in a nutshell that you can consider-
| | | |
| --- | --- | --- |
| Sr. No. | Grammarly Alternatives | Ratings |
| 1. | ProWritingAid | 4.9/5 |
| 2 | Hemingway App | 4.3/5 |
| 3. | Ginger | 4.6/5 |
| 4. | Language Tool | 4.7/5 |
| 5. | Wordtune | 4.4/5 |
| 6. | Writer.com | 4.7/5 |
| 7. | Readable | 4.5/5 |
| 8. | White Smoke | 4.2/5 |
| 9. | Sapling | 4.6/5 |
| 10. | Linguix | 4.7/5 |
Now, lets have a look on Top 9 Grammarly Alternatives in detail:
1. ProWritingAid
My first pick for the best Grammarly alternative is ProWriting Aid. This Grammarly competitor helps check grammar, spelling, and other sentence formation mistakes in the free version itself. Other advanced features of ProWriting Aid include- a style checker, synonym suggestions, plagiarism checker, additional writing suggestions, and more.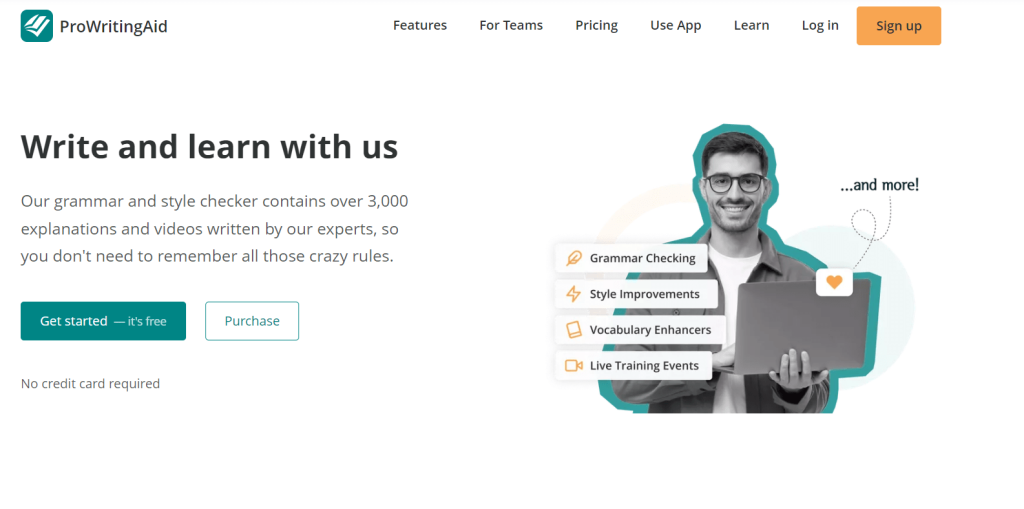 ProWriting Aid is available as Chrome, Safari, Firefox, and Edge extensions. Besides, you can integrate it with Google Docs, Microsoft Office, etc.
While the free version of ProWriting Aid helps with grammar, spelling, and a few other checkings, you have to opt for the premium or the paid version to avail yourself of the advanced features. The paid version of ProWriting Aid costs $20 per month and $399 for a lifetime subscription.
The unique feature in ProWriting Aid, which is absent in Grammarly, is the dialogue check and the alliteration analysis. These features are available for the paid plan, but it also runs on the first 500 words in the free version. 
Tip: Know more about ProWriting Aid in detail in our detailed review.
2. Hemingway App
Hemingway is mainly for improving your sentence formation. This free tool helps you find out complex and hard-to-read sentences, passive voices, and adverbs and gives a readability score based on the entire writing style.
Hemingway helps you chop those extra words to make it more readable for an average audience. The aim is to reduce the score as low as possible. Ideally, you should aim for a score of 4 or 5 so that even a child can read your document.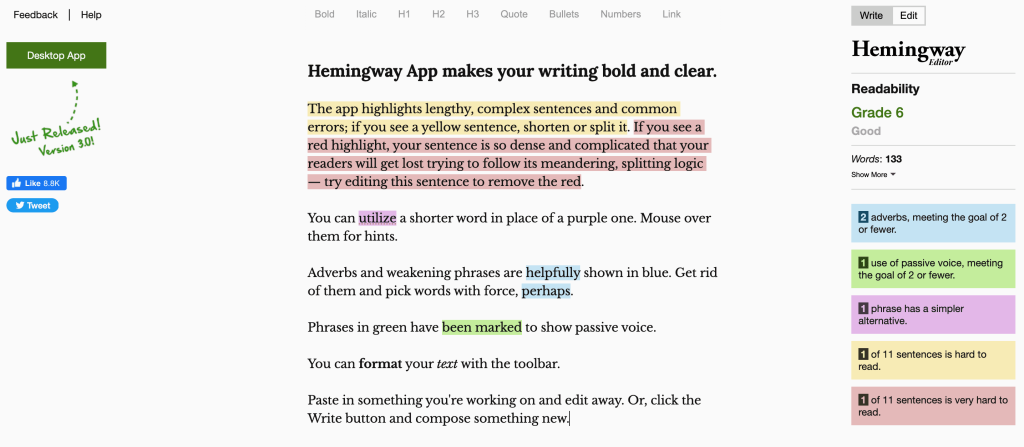 This tool is a little different from Grammarly. It does not help you with grammar correction or checking plagiarism. It's entirely meant to improve your writing style by suggesting simple easy-to-read sentences.
The Hemingway web version is entirely free. But if you need Medium or WordPress integration, you can opt for the Hemingway desktop app, which will cost around $20.
3. Ginger
Another writing aid tool that's quite similar to Grammarly is Ginger. It has all the features like checking for spelling and grammar errors, sentence editing, sentence rephrasing, dictionary look-up, and many more.
But the free version only lets you check basic grammar and suggests up to 600 characters. So opting for the free version isn't of much use. Additionally, Ginger does not check for plagiarized text, so you have to opt for another tool to check for plagiarism.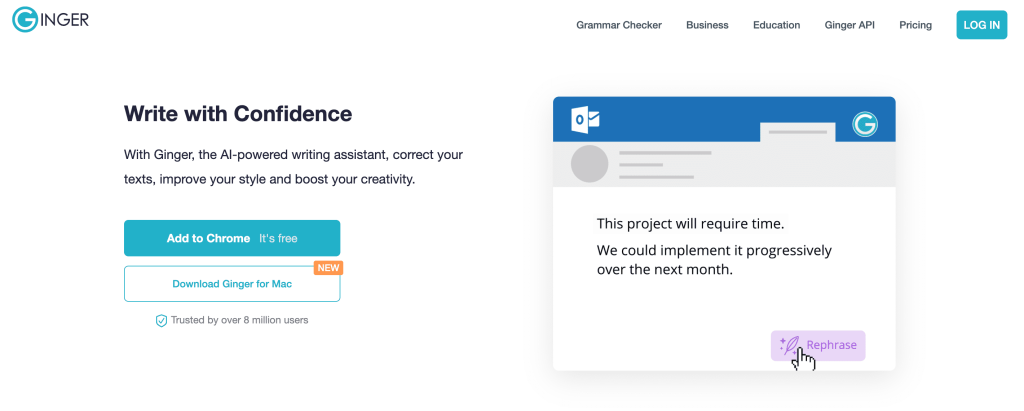 A unique thing about Ginger is that it has a tool that can translate your text into 40-plus languages. This is great if you deal with translation work more often.
Ginger paid plan costs $13.99 per month and $89.88 per year. There are desktop and mobile apps of Ginger along with a Chrome extension. 
Bonus: We have also review Ginger in detail. Click here to know more about this platform.
4. Language Tool
The free version of the Language Tool checks your text against grammar, punctuation, and spelling mistakes. Other than that, you get suggestions like extra words and passive voices in the free version.
The Language Tool has a paid version as well. It has additional features like style, tone, and synonym suggestions. It supports multiple English dialects and email add-ons for Gmail and Thunderbird.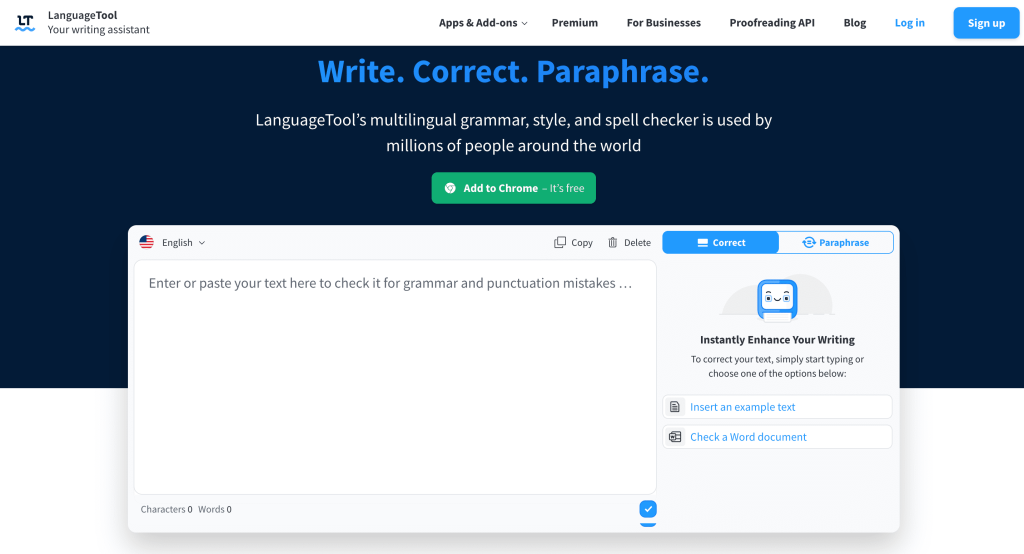 There are Chrome, Firefox, Opera, Safari, Edge extensions, and macOS and Windows apps too. Additionally, you get Google docs, Microsoft Word, LibreOffice, and OpenOffice plug-ins too, which makes the tool more user-friendly.
There are different paid plans for the Language Tool- for individuals and for teams. The individual plan is priced at $19 per month and $59 per year, while the team plan is priced at $106.20 per year.
5. Wordtune
Wordtune is another tool that helps greatly in improving your writing style. But it's pretty different from Grammarly. This tool does not work like Grammarly, which will point out grammar, spelling, and other mistakes.
Instead, Wordtune acts as a complete rewriting tool. Once you paste the content, you can select among casual, formal, or business tones, and the tool will show you rewrite suggestions accordingly.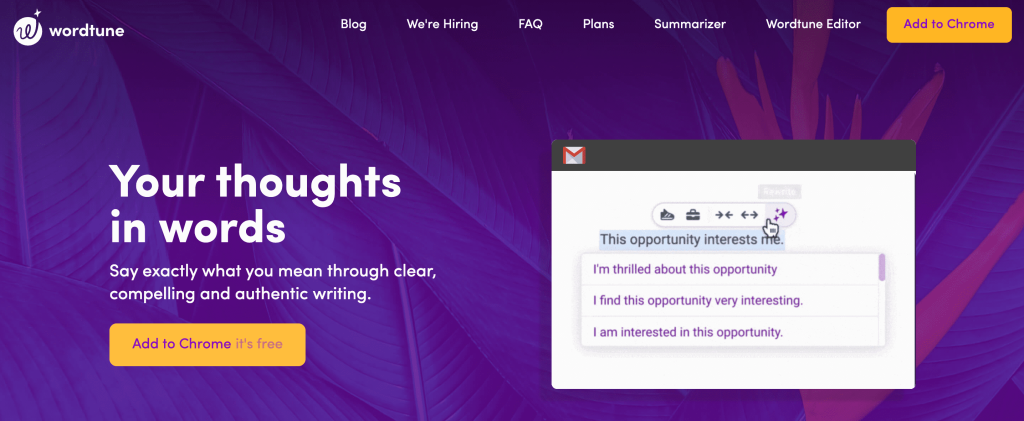 The best part is Wordtune shows multiple suggestions for a single sentence. You can select the one that goes perfectly with your style of writing. Wordtune helps you eliminate extra words to make your sentences sound crisp and fluent.
Like all other tools, Wordtune also has paid and free versions. In the free version, you cannot choose between formal or informal writing styles. You get the option only in the paid version, which will cost you $24.99 per month and $119.88 per year.
6. Writer.com
My next best pick for a Grammarly alternative is Writer.com. It's not just a grammar-checking tool, but Writer.com gives brand-specific suggestions to match your brand voice. Additionally, Writer.com provides suggestions of approved and banned terms from keeping your content free from any controversial words. With the help of this tool, you can align your whole team to write in a specific tone or style that represents your brand voice.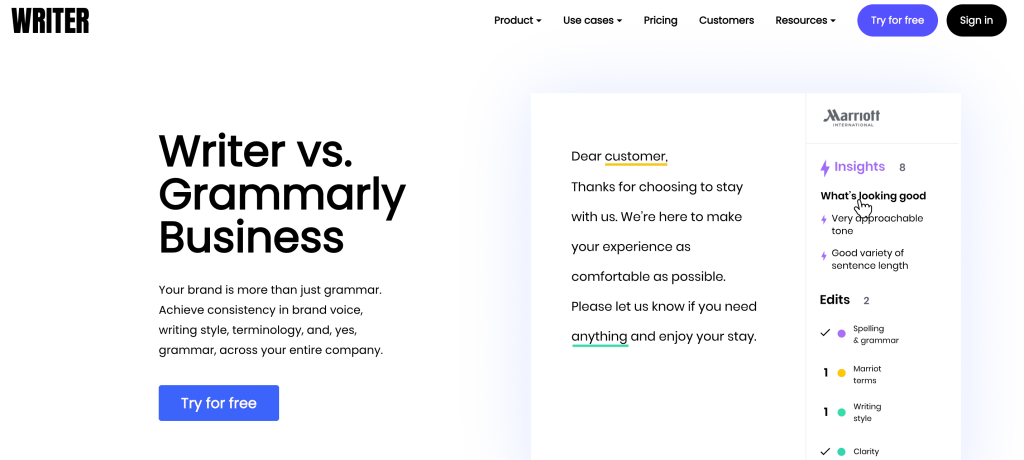 Writer.com is available for Google Docs, MS Word, and Chrome integrations, so this tool makes writing perfect content easier. Moreover, you can check your content against any plagiarized text, which comes as an added benefit.
Writer.com costs $18 per user/ month for their team subscription. If you want to sign up for the yearly membership plan, it'll cost you $162 per user per month. It provides a 15-day free trial, so there is no hurry; you can decide at ease whether you want to get this tool or not.
7. Readable
This tool is specifically for checking the readability of your text which integrates algorithms like Gunning-Fog and Flesch-Kincaid. Readable also has other features like a grammar checker, style checker, and keyword density tool, and it supports multiple English dialects. Other things Readable offers are- URL analysis, Slack, and Dropbox integrations, and it can be used with emails, documents, and on the web.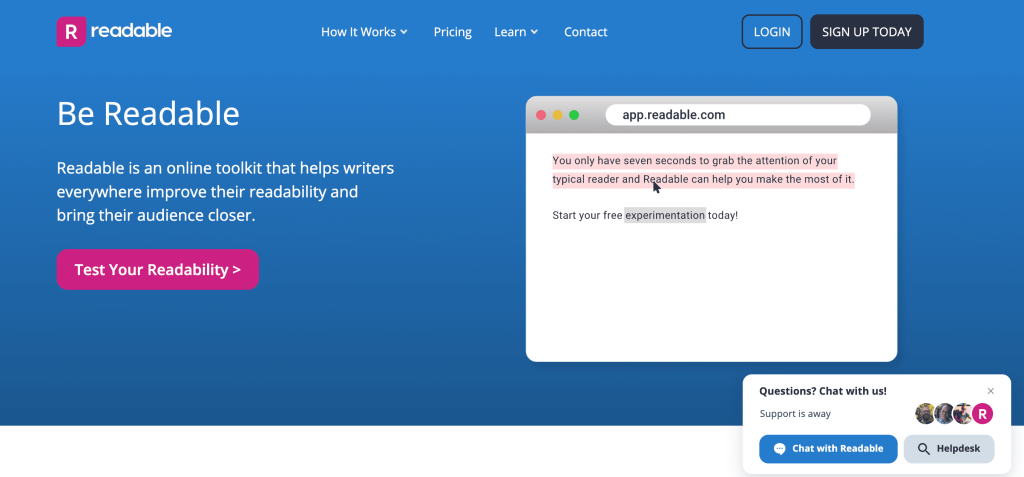 There is no free version of Readable. You must opt for the paid tool to enjoy all these features. There are three paid plans which are as follows-
ContentPro, which costs $8 per month and $48 per year.
AgencyPro, which costs $138 per month and $828 per year.
CommercePro, which costs $48 per month and $288 per year.
Readable provides a 7-day free trial, but it's only applicable to the ContentPro plan. You won't get the free trial period in the other two subscriptions.
8. White Smoke
My second last pick for the Grammarly alternatives is While Smoke. It's a grammar, style, and plagiarism checker tool which also comes with a translation tool.
White Smoke has a Windows and macOS app, Chrome, Safari, Firefox, and Opera extensions, and integration with MS word and Gmail, adding to its easy usability. However, the features of White Smoke aren't as great as Grammarly. Grammarly has the upper hand when it comes to providing advanced writing suggestions.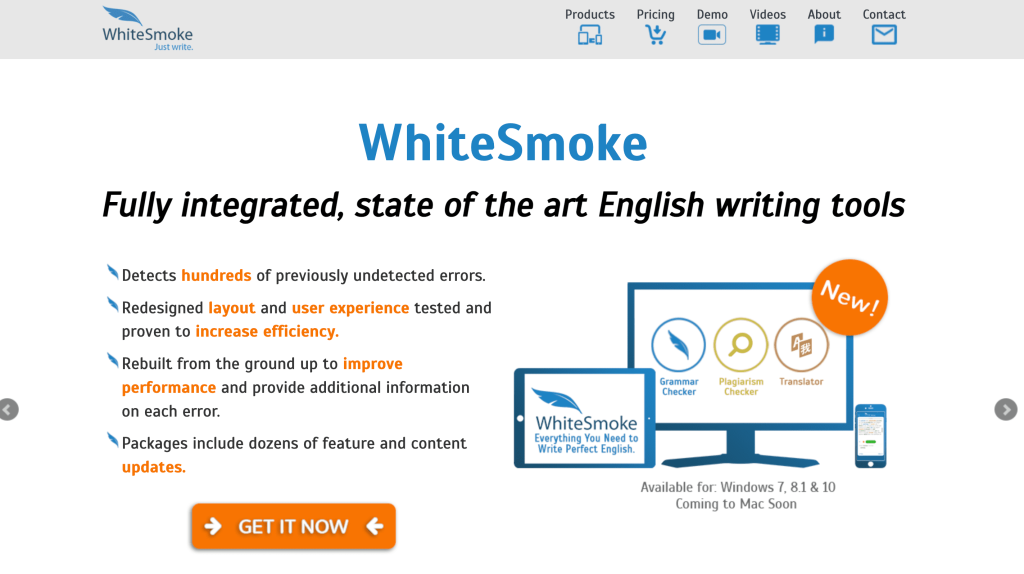 Besides that, White Smoke does not have any free plan. There are three paid plans- Web, Business, and Premium plan. The Web version is cheaper than Grammarly, which is a good thing. The Business plan is slightly expensive, but it comes with MS Word, Gmail integrations, and desktop apps.
The price structure of White Smoke is as follows-
The Web version costs $59.95 annually and $124.95 for three years.
The Business version costs $137.95 annually and $317.50 for three years.
The Premium version costs $79.95 annually and $199.95 for three years.
9. Sapling
Last but not least, Sapling is another tool that's specifically meant for CRMs and messaging platforms. It has grammar, spelling, and style suggestions, but what's unique about this tool is that it helps you create personalized and quick responses for your customers.
By helping businesses create customized responses, Sapling boosts sales and improves customer experience. For example, this ai tool immediately identifies a piece of text that your sales team uses more frequently to respond to customers. And it quickly uses that to respond to customers.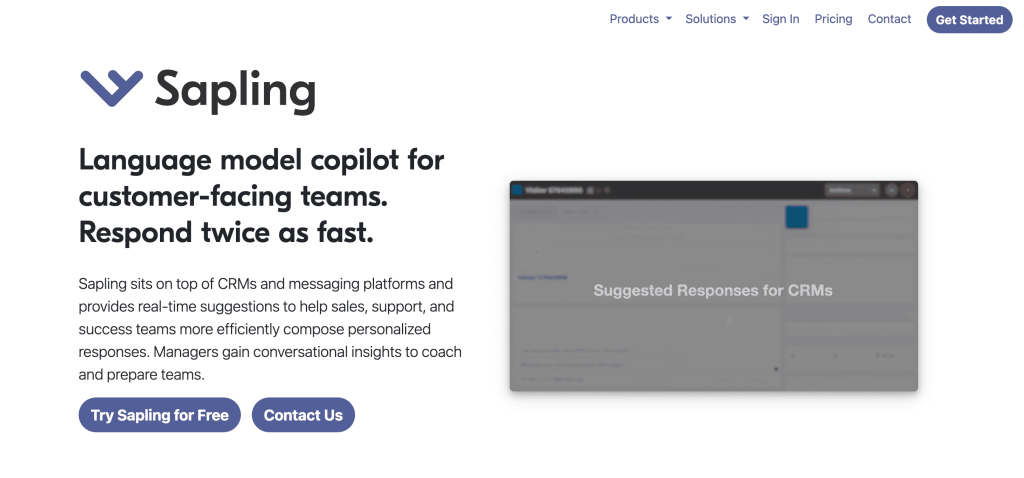 Sapling has a free version, but it does not have many features but a few basic writing suggestions. You can enjoy its capacities only when you opt for the Pro or the Enterprise plan.
Using Sapling is pretty smooth because it offers integrations for marketing tools like Hubspot, Salesforce, MailChimp, etc. Additionally, it can be integrated with helpdesk solutions like Helpshift, Zendesk, Freshdesk, etc.
The Enterprise plan has custom pricing, so you have to get in touch with the Sapling team to get your price. The Pro plan costs $25 per month.
Linguix
Linguix is an AI-based writing assistant that is very similar to Grammarly. This tool is available in 6 different languages. It is suitable for anyone who is looking for affordable grammar tools.
It provides its users with essential features like a browser extension, plagiarism detector, writing recommendations, writing templates, insights, and analytics. Moreover, Linguix offers an incognito mode where you can check your confidential data.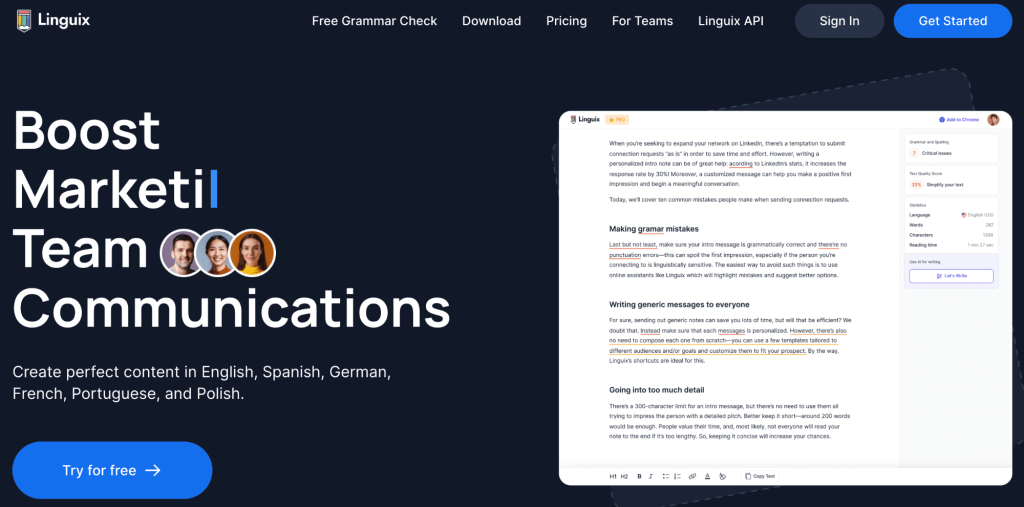 Linguix offers a free plan that only helps in correcting grammatical errors, but if you want other advanced features, then you need to opt for the pro version. The pro version costs around $15/month if billed monthly and $5/month yearly. Linguix also has a team plan; you need to contact their sales department for the quote.
Final Thoughts!
As you can see, there are numerous Grammarly alternatives with more or less similar features. These tools are designed to make writing easier by helping you with all possible writing suggestions. Each tool has a unique feature that separates it from the rest.
Make sure to do more thorough research to know which one would suit your needs better. Do you have any other queries regarding Grammarly alternatives? Drop them in the comments below.
FAQs
Which is the best Grammarly alternative?
After a long research and trying each one, we can conclude that ProWriting Aid is the best.
Which Grammarly alternative is easy to use?
HemmingWay App is comparatively easy to use.