If you visited the Grammarly website, you must have come across two options: Grammarly Free and Premium and may have numerous questions.
Do both versions provide the same features? Can you write error-free with Grammarly free?
As an active Grammarly user, I have tried and tested both versions. And based on my experience and taking the opinions of other Grammarly users, I have prepared a detailed comparison guide between the two.
If you want to know which Grammarly plan will suit you, continue reading until the end!
Grammarly Free Vs. Premium: Difference At A Glance
While the free version also provides some help, it lacks the premium's adequateness; hence, users cannot rely on it 100%.
Here is a quick glimpse of how Grammarly Premium differs from the free version.
| | | |
| --- | --- | --- |
| Available Features | Grammarly Premium | Grammarly Free |
| Basic grammar checks | Yes | Yes |
| Basic spelling checks | Yes | Yes |
| Punctuation checks | Yes | Yes |
| Readability checks | Yes | No |
| Clarity checks | Yes | No |
| Conciseness checks | Yes | No |
| Clarity suggestions | Yes | No |
| Vocabulary enhancement | Yes | No |
| Genre-specific writing style suggestions | Yes | No |
| Plagiarism detector | Yes | No |
| Advanced suggestions for sentence structure and writing style | Yes | No |
| Expert human proofreading services | Yes | No |
The above table makes it clear that all advanced features are only available in the premium feature. So for professional writers getting the premium version would prove beneficial.
Features of Grammarly Premium: New Additions
As a Grammarly premium user, its valuable features have saved me from sending inaccurate emails and writing blog posts with lousy grammar and sentence errors on numerous occasions.
In case you're not familiar, let me take you through the life-saving features of Grammarly Premium:
1. Advanced Grammar & Spelling Checks
Grammarly Premium can scan through minor flaws within seconds and offer suggestions accordingly, which one may miss out on when checking manually.
It points out grammar and spelling errors in red so users can quickly maneuver through them and correct the text using the suggestions.
2. Suggestions To Improve Sentence Structure & Punctuation
Grammarly premium also provides suggestions to improve sentence structure. The software immediately detects unnecessarily lengthy or wordy sentences and offers clearer alternatives.
Moreover, if your text has punctuation issues, Grammarly will further help you correct them.
3. Style Enhancement & Readability Checks
Quite similar to the previous feature, readability checks analyze your text for factors such as sentence length, complexity, tone, and vocabulary. And provide help to make your text more engaging and easy to read.
Moreover, if there are commonly used words in the text, Grammarly will ask you to change them to a more prominent word to improve the sharpness of your writing, as shown in the image below.

Similarly, Grammarly Premium suggests alternatives for complicated words which even a knowledgeable audience may find difficult to understand. Additionally, there are suggestions for awkward or confusing sentences to ensure your piece is clear and concise.
Please note that you should not blindly accept all Grammarly Premium suggestions. Sometimes, the ideas may not be relevant to what you're writing. So you have to accept the recommendations smartly.
4. Genre-specific Suggestions
In Grammarly Premium, you can set writing goals based on genres such as academic, business, general, creative, etc., and the tool will give suggestions accordingly. So whether you're working on a blog, academic paper, or writing an email, Grammarly Premium will help you ace every genre.
5. Plagiarism Detector
The plagiarism detector is one of the best features included with Grammarly Premium. It checks your text against billions of other online content for probable plagiarism. It shows you the original sources of matching text, helping to resolve plagiarism issues.
6. Analysis Report
After checking your content against all parameters, Grammarly Premium presents a report with a specific score. The report includes the number of words, sentences, sentence and word length, reading time, etc., and gives the readability score accordingly.
You can keep track of these reports to check your writing progress over time.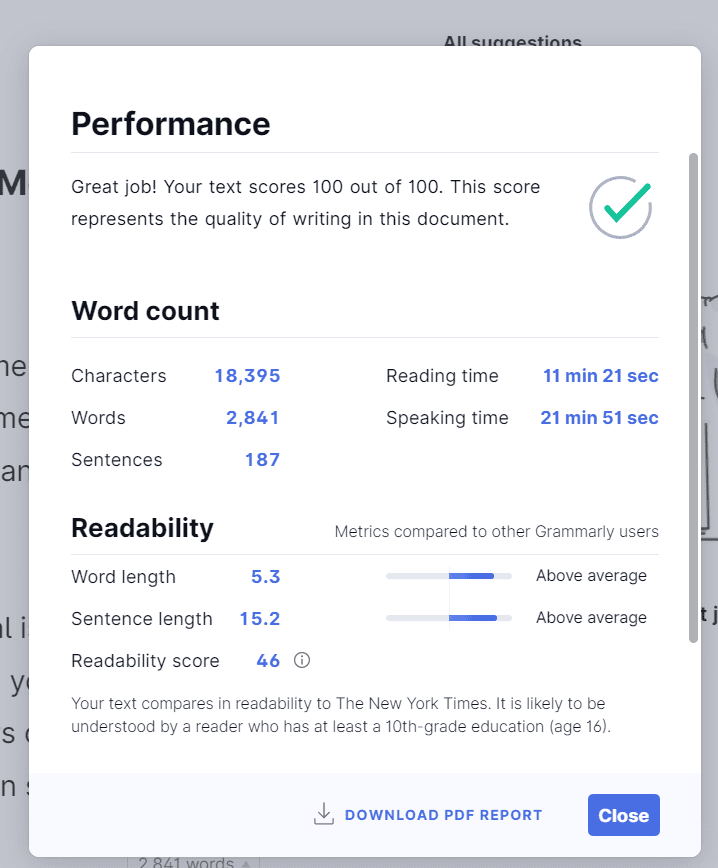 7. Availability of Human Proofreading Services
This is not included with the premium plan, but if you don't mind paying some extra bucks, you can hire an expert proofreader from Grammarly. These proofreaders are here to fix any writing errors for you and make your writing stand out.
You have to pay between $45 to $100 for the service, which is quite an investment. This service is specifically suitable for large content agencies that won't mind investing such a huge sum in a proofreader.
Features of Grammarly Free
I already made it pretty clear that Grammarly free has only a few basic features and does not come anywhere close to the premium version. In my opinion, the free version would benefit only students who need simple writing assistance.
Let's take a broader look at what you can access with Grammarly Free:
1. Basic Grammar Checks
Grammarly free points out minor grammar errors, such as the use of articles, verb tense, subject-verb agreement, etc.
2. Basic Spelling Checks
The tool will highlight misspelled words and suggest corrections accordingly. This feature can significantly help writers who are not well-versed in English or have spelling issues in general.
3. General Punctuation Checks
The free version identifies common punctuation errors and offers suggestions to correct them.
4. Simple Sentence Structure Improvement Suggestions
The free version points out basic sentence structure issues and offers suggestions to make them short and crisp. But these suggestions are not as in-depth as the ones offered by the premium version.
User Interface of Grammarly Premium & Grammarly Free
Installing and using Grammarly Premium or free is a kid's play, and there isn't any difference between the two plans in this factor.
Once you sign up on Grammarly, you can easily navigate through the tool and check your text as per Grammarly suggestions.
Here is an in-depth explanation of using the tool-
Log in to your account, and you'll land on the Grammarly dashboard.
Click on new OR upload. Here you can either copy-paste your text or upload a document.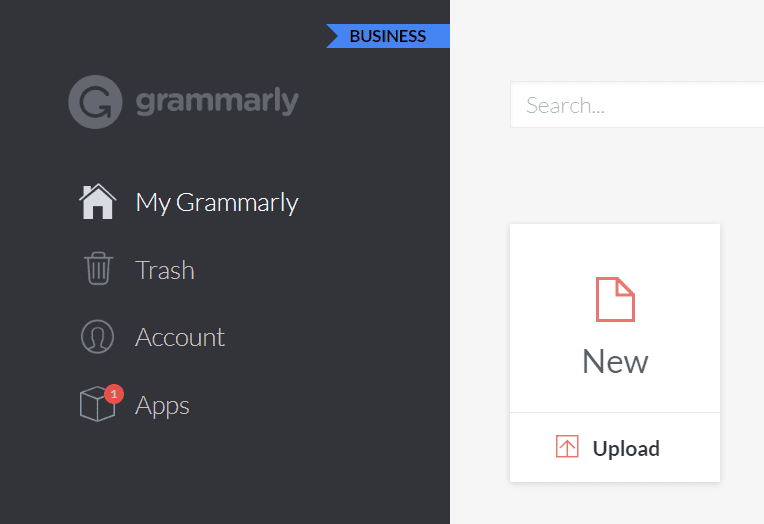 As soon as you upload or paste your text, Grammarly will scan your text and start providing suggestions to make your text error-free.
Click on the highlighted words to see what Grammarly is suggesting, and accept suggestions if they fit the content of your text. Since it's an AI tool, it cannot read names or specific words that aren't in the dictionary, so you must be careful while accepting suggestions.
There is a navigation panel on the left side with options to select language preference and other settings. The panel also provides instructions on using shortcuts.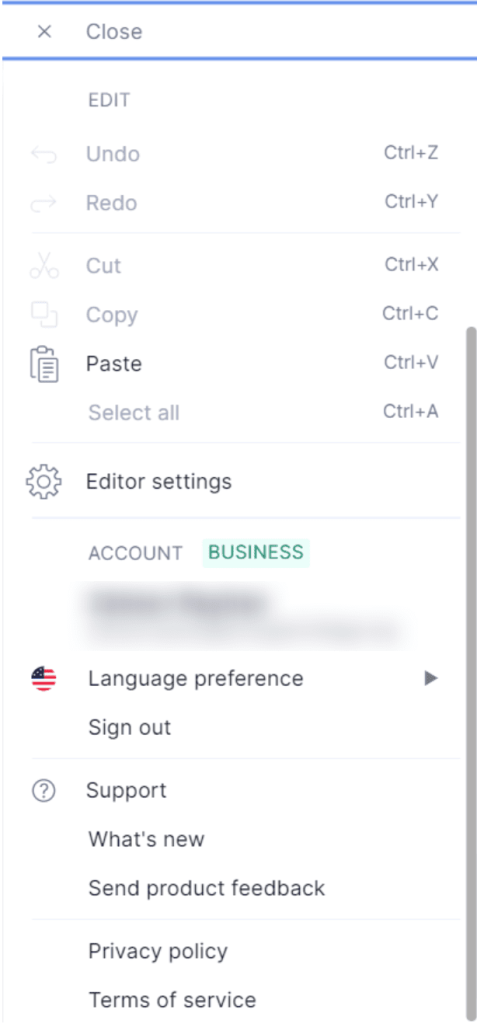 After completing all checking, you can either download the refined document or copy-paste it. And your error-free write-up is ready. Isn't it super easy to use?
Price Difference Between Grammarly Premium & Free
Grammarly free -the name itself is self-explanatory, meaning you won't have to pay a single penny to access the free version. So I'll only focus on the prices of the paid version.
You can pay for Grammarly Premium monthly, quarterly, or yearly. I have listed the price of each plan below to help you decide which would suit you best.
| | | |
| --- | --- | --- |
| Monthly | Quarterly | Annual |
| $30 per month | $20 per month | $12 per month |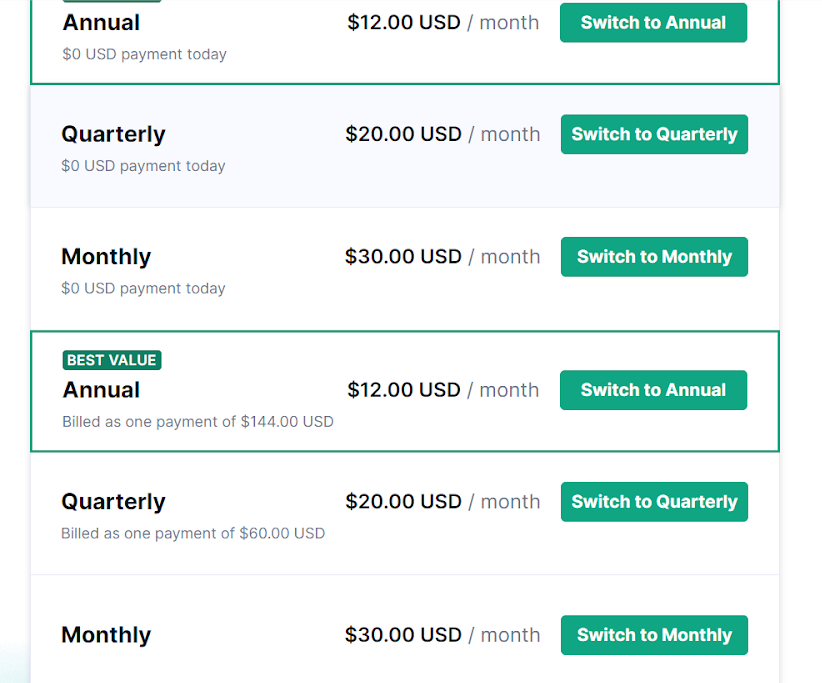 Grammarly Premium provides a 7-day free trial. In case you don't want to continue as a premium member, you can cancel your subscription within the free trial period without paying any charges.
Who is Grammarly Free Perfect For?
Because the free version has limited features, it's only suitable for people who can do with simple writing assistance, especially secondary or high school students.
Also, if you're someone who makes a lot of spelling mistakes, you can benefit a lot by running your text through Grammarly free before making the final submission.
Who is Grammarly Premium Perfect For?
Content writers, copywriters, researchers, editors, authors or professional writers, journalists, and screenwriters who deal with bulk content would find Grammarly premium most suitable.
Pros & Cons Of Grammarly Premium & Free.
After considering all ins and outs, here are the pros and cons of both versions in my opinion:
Grammarly Premium
Here are some pros and cons of Grammarly Premium:
Pros:
Robust grammar, spelling, and punctuation checks.
Writing analysis, clarity, and tone improvement suggestions
Plagiarism checker
Genre-specific and vocabulary improvement suggestions
Cons:
It may not be affordable for students and freelancers
Some suggestions are irrelevant
Grammarly Free
Let's have a look at the pros and cons of Grammarly's Free Version:
Pros
Offers correct grammar, spelling, and basic vocabulary suggestions for free
Easy user interface
Both desktop and mobile versions are available
Supports all language variations as the premium
Cons
Offers limited suggestions for sentence clarity, readability, vocabulary enhancement, etc.
No access to style suggestions and plagiarism checks.
Related Reads –
Takeaway!
In the tassel between Grammarly Premium and Grammarly Free, the premium variety is a clear winner. Even though the premium version comes at a cost, the advanced writing aids make it worth every penny.
But if you're an occasional Grammarly user satisfied with the restricted features, Grammarly Free would do just fine for you. I hope this extensive post on Grammarly Free Vs. The premium has guided you in the right direction to make an informed decision.
Do you have any further queries about Grammarly? Ask them in the comments!
FAQs
Can You Change Languages In Grammarly Premium?
No, you can't change language in Grammarly premium. It currently supports only the English language, but it supports different English preferences such as American, British, Indian, Australian, and Canadian English. 
What Are The Alternatives To Grammarly?
Some good Grammarly alternatives are- Ginger, ProwritingAid, Quillbot, and Hemingway Editor, to name a few. 
On How Many Devices Can I Use The Grammarly Account?
In the words of Grammarly itself, you can use Grammarly on up to 5 devices.