As a writer or someone associated with regular writing work, a writing aid tool is necessary, and we all know Grammarly is the best bet. While we know it is a great choice.
This review is intended to tell the users why it is a great choice. And mind it, we are not just going to talk about the good stuff here, Grammarly is a tool, and every tool has some drawbacks. We will discuss all of it and more in this detailed Grammarly review.
Grammarly has two versions – paid and premium. To avail of the advanced writing aids, one must opt for the premium plan. But is Grammarly premium worth your money? Let's discuss this.
I had the same question before buying Grammarly premium, and here is my Grammarly review where I spill some crucial facts about this tool that you must know. Keep reading further to know more.
A Brief Insight Into Grammarly Features
Mentioned below are some of the primary ways Grammarly helps you write flawlessly-
Grammarly checks every word for any spelling errors.
Grammarly points out all punctuation and grammar mistakes. It will show everything like- sentence fragments, run-on sentences, commas, similar-sounding sentences, wordy sentences, and a lot more.
Grammarly does not simply point out the mistakes; it also tells you the reason behind them, helping you avoid similar mistakes in the future.
Grammarly gives suggestions for better sentence structure also. For instance, if your sentence is too wordy, Grammarly will show you how you can convey the same message while cutting out unnecessary words. This helps achieve the native touch in language.
And finally, as I also mentioned before, Grammarly scans your text against thousands of similar content to find plagiarism. Plagiarism isn't always done on purpose. Sometimes, we write similar sentences unknowingly; Grammarly's plagiarism tool helps us find those sentences to help us publish fresh and original content.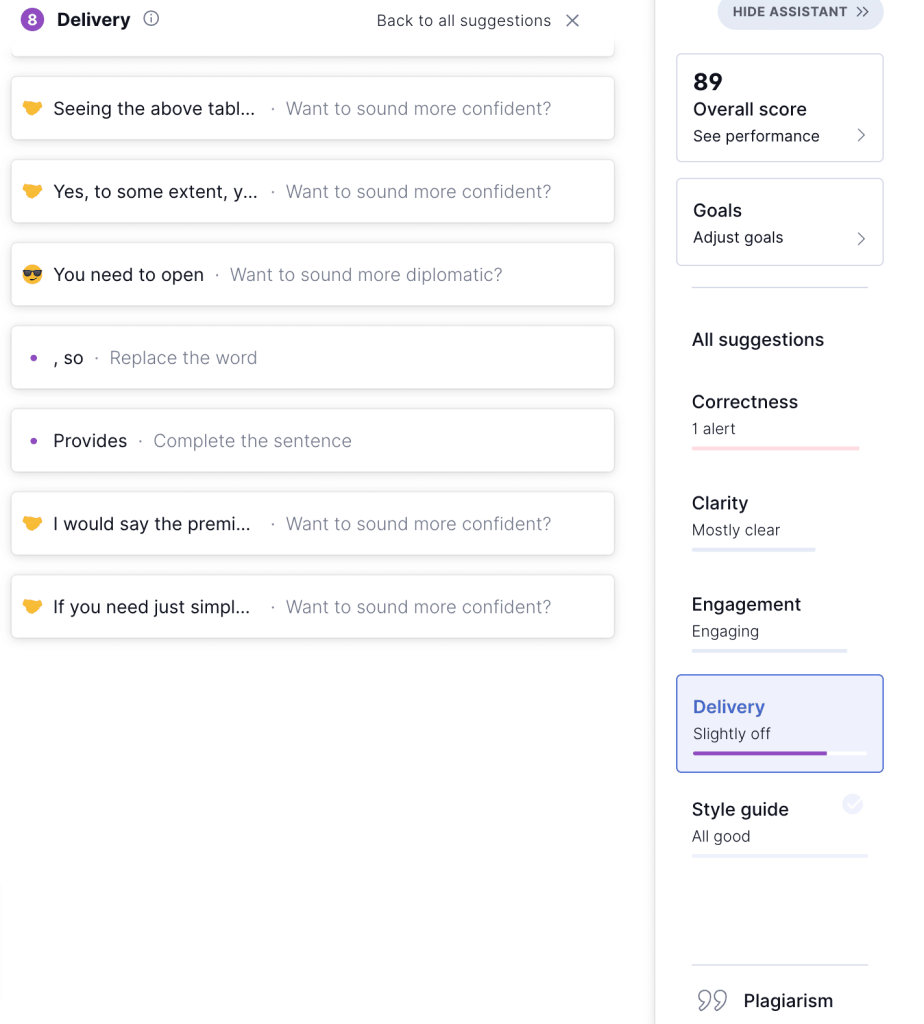 Mentioned above are the main features provided by Grammarly. But here is a catch! You'll only get these features when you opt for the Grammarly premium version. While the free version provides some sort of writing aid, they are not as useful. I have stated the difference between the two versions below to make it easily understandable for you-
| Features | Grammarly Premium | Grammarly Free |
| --- | --- | --- |
| Spelling check | ✔️ | ✔️ |
| Punctuation check | ✔️ | ✔️ |
| Grammar check | ✔️ | ✔️ |
| The clarity-focused sentence rewrite suggestions | ✔️ | ❌ |
| Plagiarism detection | ✔️ | ❌ |
| Tone improvement | ✔️ | ❌ |
| Choice of appropriate words | ✔️ | ❌ |
| Showing fluency level | ✔️ | ❌ |
| Other advanced writing suggestions | ✔️ | ❌ |
Seeing the above table, we can safely say that the free version lacks lots of advanced features that professional writing requires. I have also tried the free version, which isn't much help because it does not show any suggestions for sentence improvement, etc.
However, students who can work with simple suggestions and checks will benefit from the free Grammarly version. Grammarly also has a business version that provides some additional help like- snippet suggestions, brand tone, style guide, analytics dashboard, priority email support, account roles and permissions, and more.
The business account can be used by multiple users, which is great for companies like content agencies, online business holders, etc.
How To Use Grammarly?
So how do you use Grammarly? Do you copy-paste everything you wrote in the tool? Yes, to some extent, you have to copy and paste the content into Grammarly. But please remember that Grammarly is an internet-based tool, so your internet connection must be active when you are running your text through it. Otherwise, it won't point out the mistakes.
There are different ways of using Grammarly, such as the Grammarly web tool, the app, or the browser extension.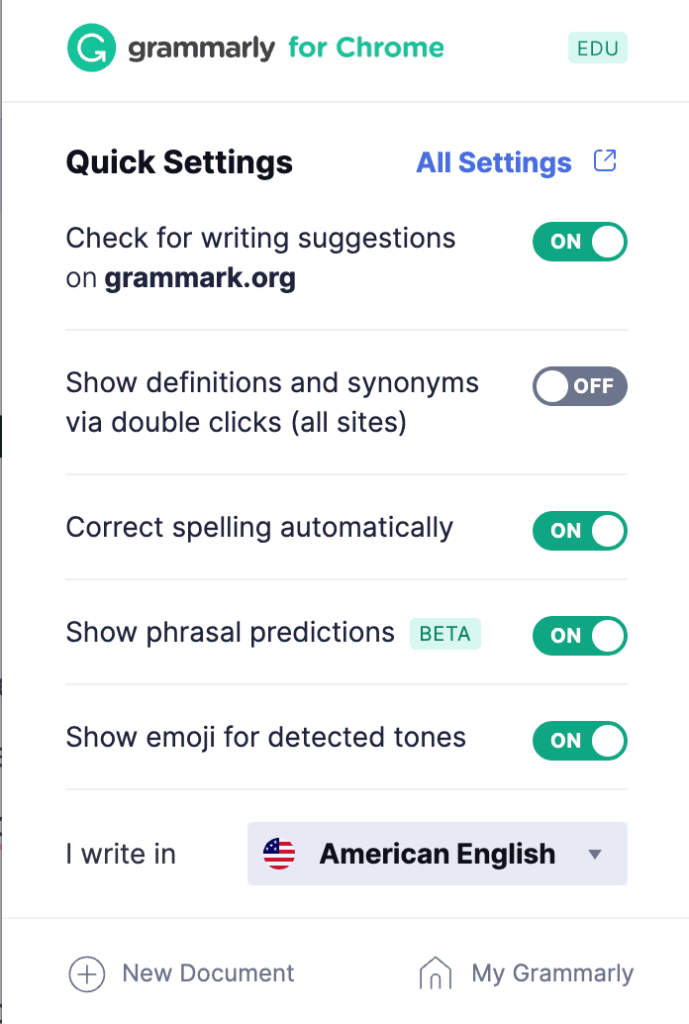 Grammarly web tool. You need to open the Grammarly web tool, then click on new and paste the copied content in the blank space. As soon as you paste your content, Grammarly will analyze the whole work and start giving suggestions for spelling, grammar, punctuation, and other errors.
Once you finish all the checks, copy the edited content and paste it back into your original document. Please note that, in this method, Grammarly changes the format of the text, like the tables, listings, etc., and you have to redo them.
If you have a full document ready and you don't want the tool to mess up with the formatting, you can directly upload the document. So instead of clicking on new, you'll click on Upload.
Grammarly also has a desktop app that works both on Windows and MacOS. To use the app, download it first, follow the installation methods, and start using it the same way as the web tool.
Finally, you can add a browser extension of Grammarly. You can add the extension on Chrome, and Grammarly will automatically check your work on different platforms like email, Google Docs, and any other site or tool you use.
How Does Grammarly Make Your Job Easier?
Nobody notices the small errors we make while speaking, but these mistakes can leave a bad impression on written work. But Grammarly saves you from such mistakes as it scans your work against every possible error like- grammatical, spelling, syntax errors, etc. Not just that, the premium version of Grammarly also detects any plagiarized content, which is of great help.
What Is The Difference Between Grammarly Free & Grammarly Premium?
The Grammarly free version only assists with basic grammar and spelling errors which I mentioned already, but with the premium version, you can access all premium writing aids. I have listed down what you can access with each feature to help you understand the difference between the two-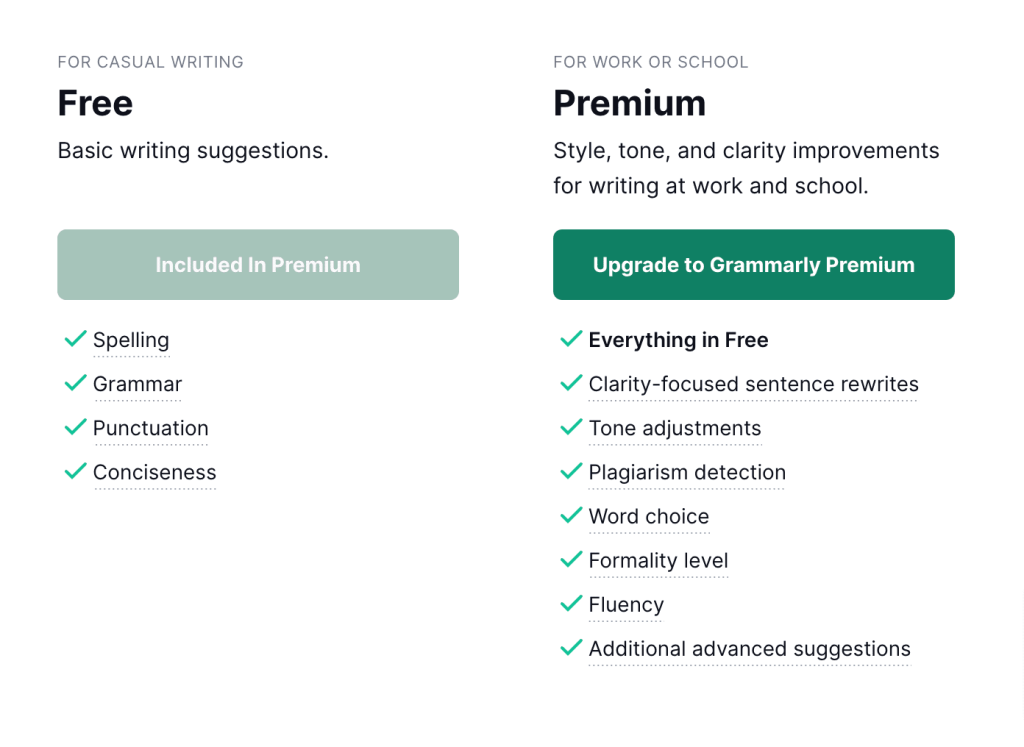 Grammarly Premium:
Advanced grammar and spelling suggestions 
All error detections 
Advanced writing analysis checks 
Advanced punctuation checks 
Advanced suggestions for tone and formality 
Access to plagiarism checker 
Integration with other apps such as Google docs, Microsoft word, Outlook, etc. 
Personalized suggestions based on writing goals.
Additional suggestions for writing clarity, engagement, and delivery.
Grammarly Free:
Limited grammatical error suggestions 
Limited vocabulary suggestions 
No punctuation checks 
No access to writing style analysis 
Basic tone and formality suggestions 
No access to plagiarism checker 
Bonus: Know in depth about Grammarly Free vs Premium and know which plan elevates your words to perfection.
How Much Does Grammarly Cost?
If you opt for the free version, you can use Grammarly without paying a single penny, and there are no time restrictions as well. There are specific prices for the premium and the business plans. The price range for the premium plan can range from $12 to $29 per month. If you pay annually, you'll have to pay $12; if you opt for the monthly payment option, Grammarly premium will cost you $29.
Grammarly business plans cost $12.5 per month per employee if you decide to pay annually. Grammarly also provides occasional discounts from time to time applying, which you can get up to 20 to 30% discounts.
Apart from that, there are no special Grammarly discounts for students or special citizens. The plan prices are the same for everyone, irrespective of their job role.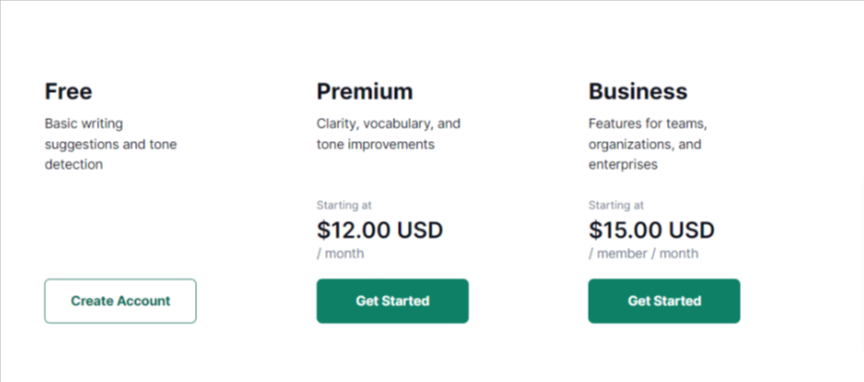 Subscription Type
Price
Grammarly Premium (annual subscription)
$12 per month (billed yearly)
Grammarly Premium (monthly subscription)
$29 per month
Grammarly Business
3 to 9 seats: $180 per seat annually
10 to 49 seats: $174 per seat annually
50 to 149 seats: $150 per seat annually

If you are skeptical about buying the subscription, you will be happy to know that Grammarly offers a 7 day free trial, where you can try the premium features without spending a penny.
Bonus: You can save upto 60% on Grammarly pricing during their Black Friday Sale in the month of November.
Pros & Cons Of Grammarly
After considering everything, here are the pros and cons of Grammarly as per my observation-
Grammarly Pros
Mostly accurate suggestions 
Real-time grammar checking 
It's simple so that anyone can use it 
It provides a lot more than simple spelling and grammar checking
Grammarly Cons
The free version does not help much 
You can't accept every suggestion
Is Grammarly Worth Buying?
So is the Grammarly premium worth it? My short and simple answer would be yes, it's worth it. If you're an editor of books, journals, etc., or are associated with writing tasks daily, Grammarly premium is definitely worth the investment.
It catches the smallest of errors that often go unnoticed by the naked eye. As a writer, I have been using Grammarly premium for more than three years, and it's helping me produce error-free content.
Grammarly is much more than a spell or grammar checker. It helps with sentence improvement, choice of words, improving readability, and a lot more. You can also set your writing goal based on the audience (knowledgeable, general, expert), and the tool will show you suggestions accordingly.
However, you can't use Grammarly's suggestions blindly. You must read the suggestions and see if the suggestions fit the content of your writing or not. Even though Grammarly helps you improve your writing in every way possible, it's not like a human editor.
At times, it can't recognize product or service names and certain other things that we use to make our writing sound natural. Hence, the user of Grammarly must be active and careful while using the tool.
Other than that, Grammarly definitely helps writing flawlessly if you monitor the changes made carefully.
More Resources on Grammarly:
Final Takeaway on Grammarly Review!
I hope this Grammarly review has helped you decide whether this writing aid tool will suit your writing needs or not. I would say the premium or the business tool is beneficial for people dealing with professional writing every day. If you need just simple suggestions like grammar and spelling checks, the free version will do just fine for you.
FAQs On Grammarly Review
On which device does Grammarly work?
Grammarly works on almost every device.
Is the information safe with Grammarly?
Yes, your information is safe and secured with Grammarly.
Are there any alternatives to Grammarly?
Yes, there are a few alternatives to Grammarly, like WritingProAid, Ginger, and WhiteSmoke.
Who can use Grammarly?
Grammarly can be used by everyone to rectify their grammatical errors. But it is majorly used by students, job seekers, and employees.