Google docs and Grammarly are the two important aspects that instantly pop up in the mind when it comes to writing. 
If you are searching for a convenient way to refine your work on Google docs, then Grammarly is the perfect option for you.
But how to add it to Google docs? If you are wondering the same question, then here you go.
This article will provide detailed steps for adding Grammarly to google docs. So without any delay, let's get started.
Grammarly-overview
Grammarly is an extensive app or browser extension that helps you ensure that your content is error-free and impactful by detecting the errors of your content and providing essential suggestions to upscale your writing skills.
It works in all the web browsers, such as Firefox, Edge, Safari, etc., but to get the fullest experience of its features, Chrome is the preferred browser.
By opting for Chrome, it is possible to access the full functionality of Grammarly in the sidebar of Grammarly in Google docs.
How to add Grammarly for Google docs?
Adding Grammarly to google docs is quite a different process than adding it to Microsoft word.
To learn how to add Grammarly to Google docs, go through the steps provided below.
Step 1- Head toward the Grammarly official website
The first step is to visit the website of Grammarly. You can also do it by using Firefox, Safari, and Edge, but with Chrome, you can access the full features of Grammarly in Google docs.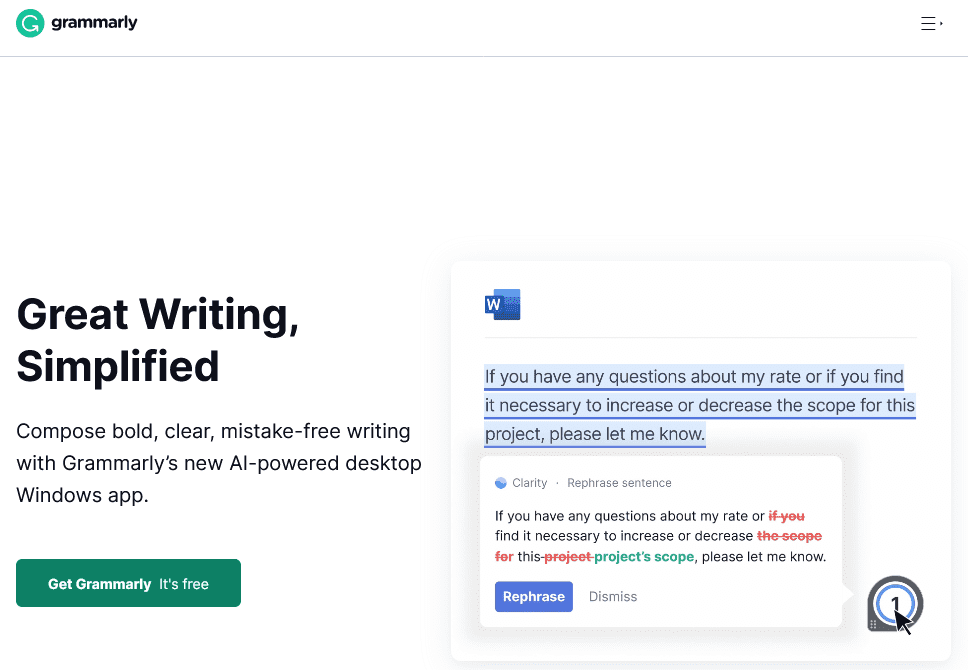 Step 2-  Click on Get Grammarly
The next step is to click on Get Grammarly. It will direct you toward the Grammarly extension.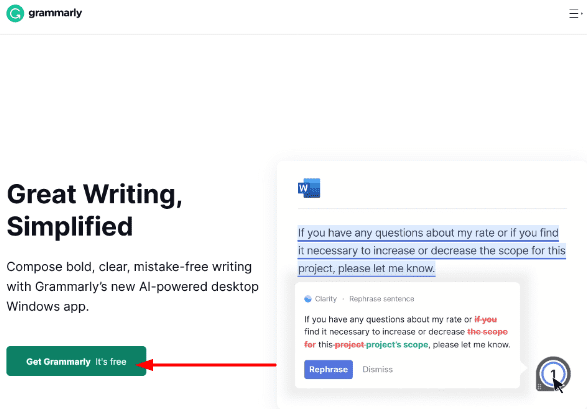 Step 3- Select add to chrome option
In the third step, click on the "add to Chrome" button and install the Grammarly extension from the Chrome web store.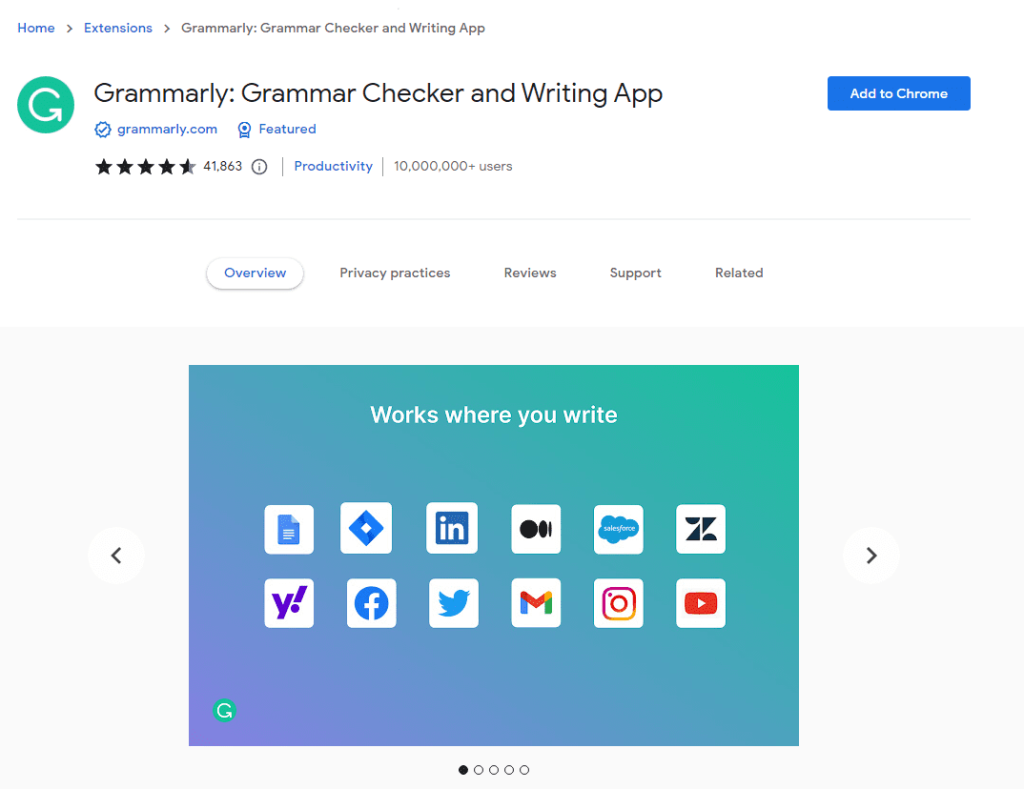 Step 4- Set up your Grammarly account
Once you have added the extension, the next step is to create a Grammarly account. If you have your Grammarly account select the option "I have an account" and sign in here.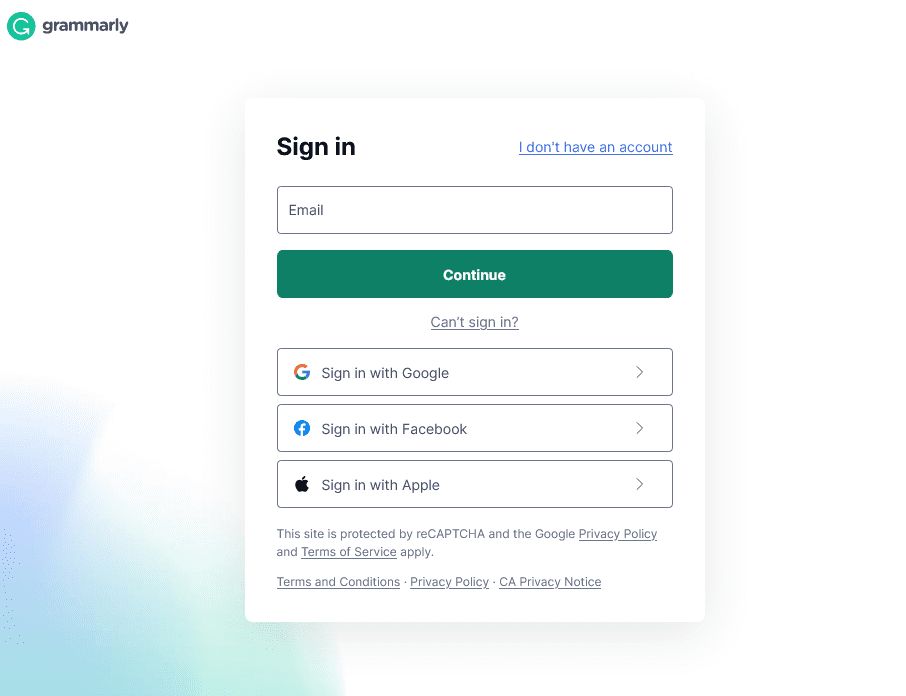 Note: You won't be able to access Grammarly in Google docs if you don't create your account.
Step 5- Head toward Google docs
Once you have created your account, go to google docs and open a document. After that, select the icon present at the bottom right corner of your window. The icon
The icon appears like Green G by default, but if you have any suggestions regarding correction, it will appear red in color.
On clicking on the icon, you will see the corrections and necessary suggestions on the sidebar, where you can see the detailed information and can delete the suggestion if you do not want to apply it.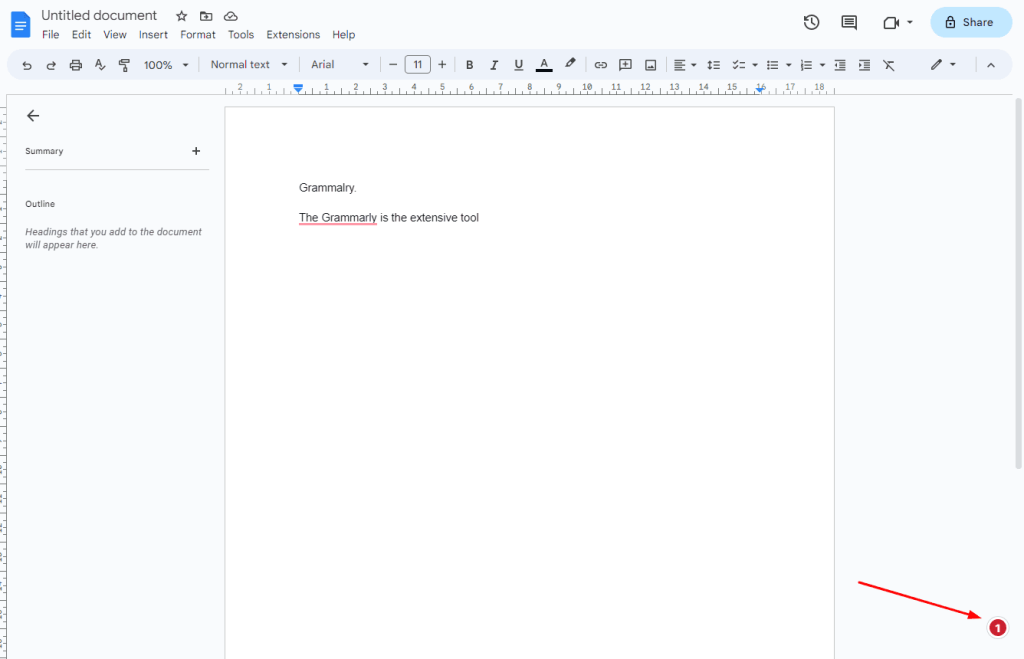 Congrats! You have successfully added Grammarly to Google Docs. You can now access all its exclusive features on google docs.
Using Grammarly in Google Docs
Now that you have successfully added Grammarly to Google docs, whenever you will start content in Google docs, Grammarly will automatically work in the background and examines your content to detect errors.
The sidebar of Grammarly provides various changes that are indicated by different colors. Let us get familiar with those changes.
Green icon: The green icon, which is present by default, indicates that there are no errors in your content, and you are good to go.
Loading icon: The loading icon indicates that Grammarly is actively monitoring your content and will provide you with the report within a few seconds.
Red icon: Red icon indicates the critical mistakes or errors, and the number on the red icon demonstrates the total number of critical errors that need to be fixed or corrected.
Red underlines: The red underlines indicate that Grammarly has a suggestion for you, and if you hover over the red underline, it demonstrates the change suggested.
Features offered by Grammarly for Google docs
Below are a few features offered by Grammarly on Google docs.
Detects spelling and Grammatical errors.
Eliminates wordiness by replacing wordy phrases with concise and crisp sentences.
It imparts clarity to your content and enhances word choice.
Allows you to customize your personal dictionary by adding words.
Provides the option to select a new language.
Related Reads – How to Add Grammarly to Word
Conclusion
Several people use Google docs to write content, and in order to proofread your content and make necessary changes, Grammarly is the highly recommended tool.
By adding Grammarly to Google docs, you can either create new documents and check them, or you can also check the pre-existing ones.
The above-provided guide can be used to add Grammarly to Google docs on both PC and Mac.
So add Grammarly to Google docs today and start writing exceptional content.
Also Read:
FAQs
What to do when the Grammarly icon is not visible in Google docs?
If you are not able to see the Grammarly icon in google docs, or if Grammarly is not providing you suggestions, then Grammarly for google docs is disabled. In such case, you can simply look for the Grammarly icon in the toolbar of the browser and click on it and make sure checking for writing suggestions is turned on in google docs. 
Where is the sidebar of Grammarly present in Google docs? 
In the Google document, on clicking the green Grammarly icon present at the bottom right corner, the Grammarly sidebar pops up on the right side of the screen, and it comprises all the corrections and suggestions provided by Grammarly. 
Can you use the plagiarism checker of Grammarly in Google docs? 
You cannot use the plagiarism checker of Grammarly in any integration. In order to check your content for plagiarism, you can use the official document of Grammarly.