Grammarly is a well-known platform for its AI-powered writing assistance.
With the addition of Grammarly Plagiarism Checker, the tool claims to be an all-in-one solution.
As someone who writes every day and needs a plagiarism checker, I was curious to see if Grammarly's plagiarism checker is reliable.
If you are wondering if the plagiarism detector by Grammarly is reliable and worth investing your money in, this review will help you in simplifying your decision!
In this Grammarly Plagiarism checker review,, I will test the tool with different examples, so you will know how it works and how accurate the results are.
So, are you curious to see the results of our test?
Let's dive into the details!
Weighing The Pros and Cons
Before we get into our detailed review, here is a quick list of pros and cons that will help in getting an idea about the plagiarism checker by Grammarly.
Pros
Extremely fast when showing results.
Intuitive and easy-to-use interface.
Highlights the plagiarised content along with reliable sources of information.
Compatible with multiple devices.
Unlimited checks with no word/character limit.
Contains more than 16 billion databases to scan your content.
Cons:
Fails to be accurate in many cases.
Supports only English.
Can be expensive to purchase.
Grammarly Plagiarism Checker: Quick Overview
It doesn't come as a surprise to know that Grammarly is used by 30 million people globally.
What makes this tool so special and popular is its ease of use and exceptional functionality compared to other tools in the market.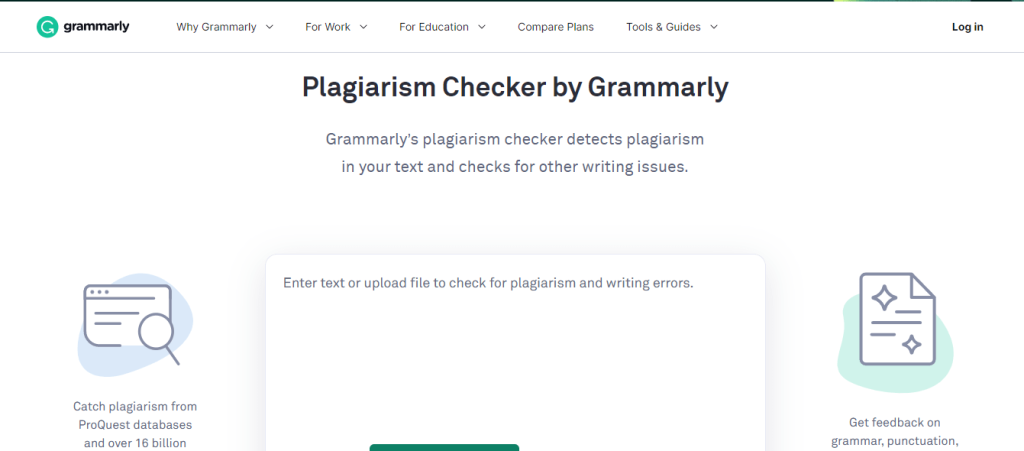 This AI-writing assistant works excellently to check your content for errors, spelling, punctuation, clarity, tone, and other parameters.
Now let's focus on its plagiarism detection tool.
Honestly, I found Grammarly adding a plagiarism checker in its tool as a cherry on top.
Instead of spending money on other tools, you can use this all-in-one platform and ensure your content is 100% correct and unique.
Furthermore, the plagiarism checker has many functionalities that I love. It scans your content from 16 billion web pages online and is quick with the results.
In this review ahead, I will test the tool, so you can decide if it's the right fit for you!
How Does Grammarly Plagiarism Checker Work?
Grammarly plagiarism checker is very beginner-friendly and requires no prior experience to get started.
Once you have signed up for your Grammarly account, you can get started with its plagiarism checker.
One of the best parts about its plagiarism checker is that you don't need to move to another place to check your content.
Once you have checked your content thoroughly for grammatical errors and corrections, you can run a plagiarism detector with just a click of a button!
The right side of your interface will show you the results and the source from which the content is similar or copied.
Overall, I find the plagiarism checker extremely easier to use.
Is Grammarly Plagiarism Checker Accurate? Our tests!
Grammarly proudly boasts that it analyzes and scans over 16 billion web pages and academic papers online to check for plagiarism. 
While it claims to provide a lot of amazing features, I won't give a verdict unless I test it myself.
So, let's check how accurate is the plagiarism checker and whether you can count on it by testing out various instances!
Test #1: Checking From Existing Content
In this test, I copy-pasted content from existing content from Grammarly Free vs Premium.
Instead of copying the entire article, I took the features part from 1st to 3rd to see if Grammarly caught it.
Here are the results: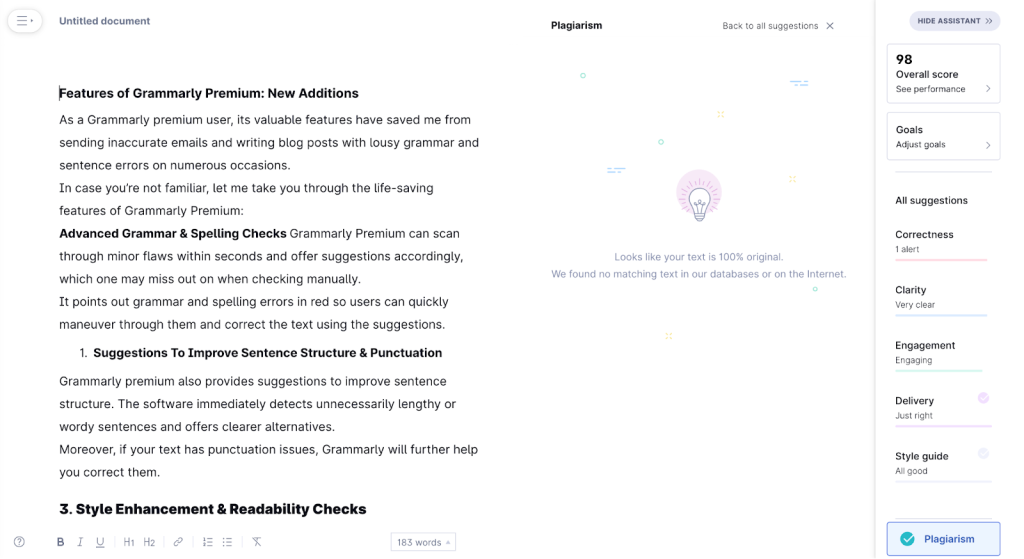 As you can see clearly that it failed to notice plagiarism, despite the article being copied -word to word!
Well, the results were quite disappointing and made me doubt the plagiarism checker.
Test #2: Checking Non-published Content
Since I tested it with the existing published content, let me see if it can detect plagiarism in content that is not written yet.
I'm going to copy-paste this content while testing it. (note that I'm using this existing content before publishing it).
Here are the results: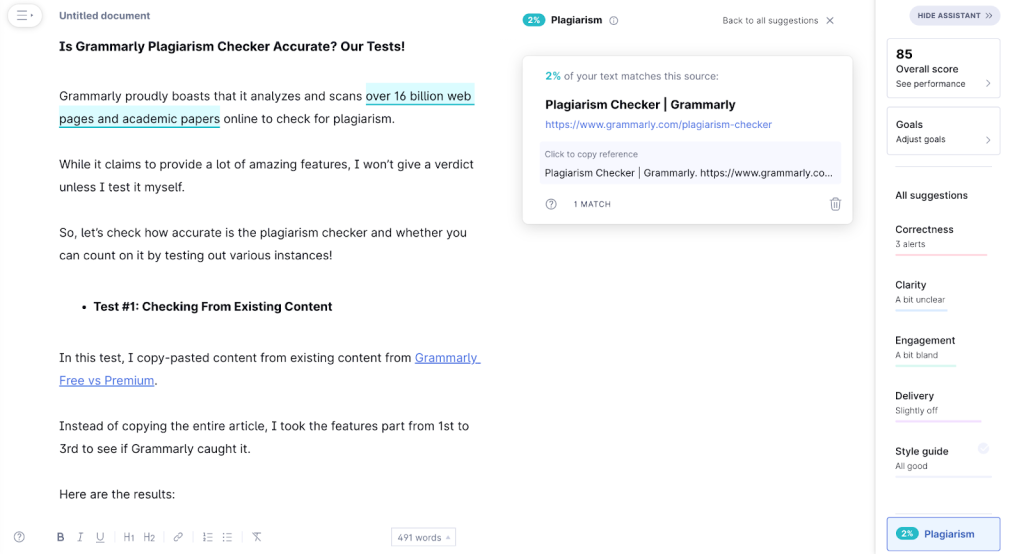 Grammarly pointed out this sentence, which I doubt the other competitors of Grammarly will check.
Let's test the same against Copyscape and see if it could detect any!
The content I have used on the above screenshot is the same content I will paste on Copyscape.
Here are the results:
As you can see, Copyscape didn't detect plagiarism, but Grammarly did.
From my point of view, Grammarly flagging my one line as plagiarized based on the data I have used doesn't really make sense.
Either way, let's move to another criterion and give Grammarly's plagiarism checker one last chance!
Test #3: Checking For Edited Texts
Now that we have seen two examples of Grammarly's plagiarism checker let's check other content.
In this test, I used existing content from How to Cancel Grammarly Subscription (published) and my existing content (which is not published).
I mixed both contents to see if Grammarly's plagiarism detector can detect edited texts.
Here are the results: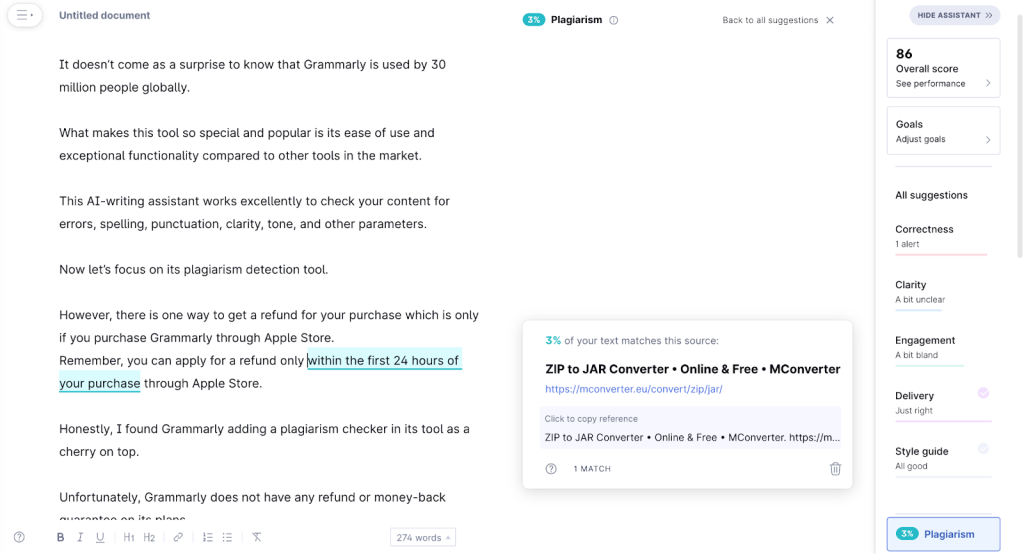 Again, Grammarly was disappointed with its results.
It failed to detect plagiarism with edited texts too.
My Verdict: Grammarly failed in all three tests that I conducted and failed to detect plagiarism in all three aspects. So, I wouldn't say that Grammarly Premium is totally reliable. No matter whether you are a student, writer, or marketer, you can switch to another accurate plagiarism detector instead of Grammarly.
Grammarly Plagiarism Checker: Availability
Grammarly is available across various platforms.
Some of the devices and platforms where Grammarly is available and can be used include the following:
Mac
iOS and Android mobile devices.
Tablets.
Extensions for Chrome, Safari, and Firefox.
Mac and Desktop.
Once you have installed the application of your choice of device, you can use it across every platform you type, including social media, Slack, Google Docs, Word, Notes, and more.
What are the limitations of Grammarly Plagiarism Checker?
Grammarly is not 100% reliable when it comes to plagiarism.
However, it works perfectly for checking your content for spelling mistakes, grammatical errors, and clarity.
The free version of Grammarly does not provide a plagiarism report. Instead, it will only show you whether your text contains plagiarism or not.
You can upgrade to Grammarly Premium to get complete access to the plagiarism detector and its features.
If you are a student who needs a quick check for their assignments and tests, you can use Grammarly's plagiarism checker.
Similarly, you can also use it for social media posts.
However, I wouldn't recommend it for professionals who write long content as it fails to detect plagiarism in long-form content.
Alternatives for Grammarly Plagiarism Detector
If Grammarly's plagiarism detector disappoints you, you can always look for alternatives.
As someone who is into writing every day, here are a few alternatives you can check out!
1. Copyscape
This goes without saying that Copyscape is my number one plagiarism detector tool. With its accurate results, it helps you to check out any major plagiarism in your content.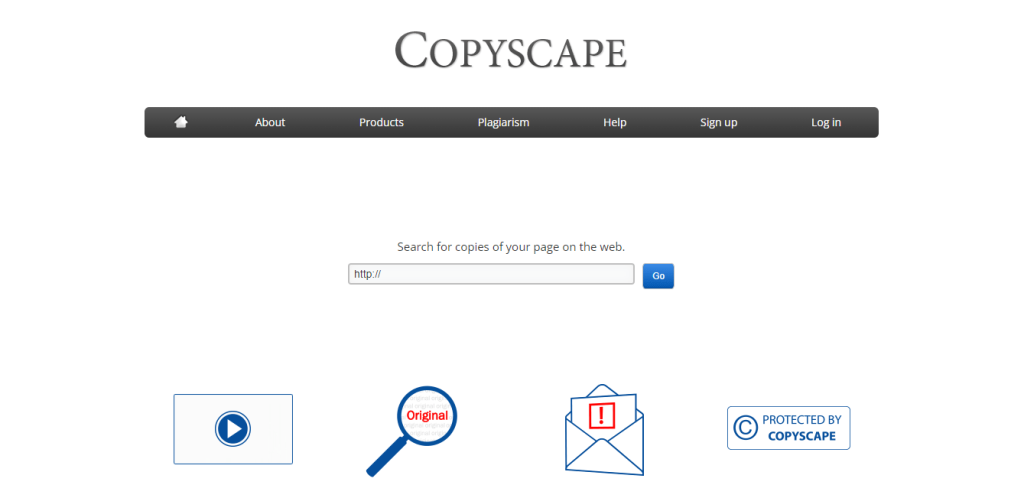 Besides checking individual content, it also facilitates bulk checking for your entire website. This feature comes in handy for people who want to check their entire website for plagiarism.
Furthermore, you can also compare your content with your competitors to see if it is similar.
Price: It works on a credit basis wherein you need to add a minimum of $5 to your account. Depending on the number of words, it will deduct from your credits.
2. Quetext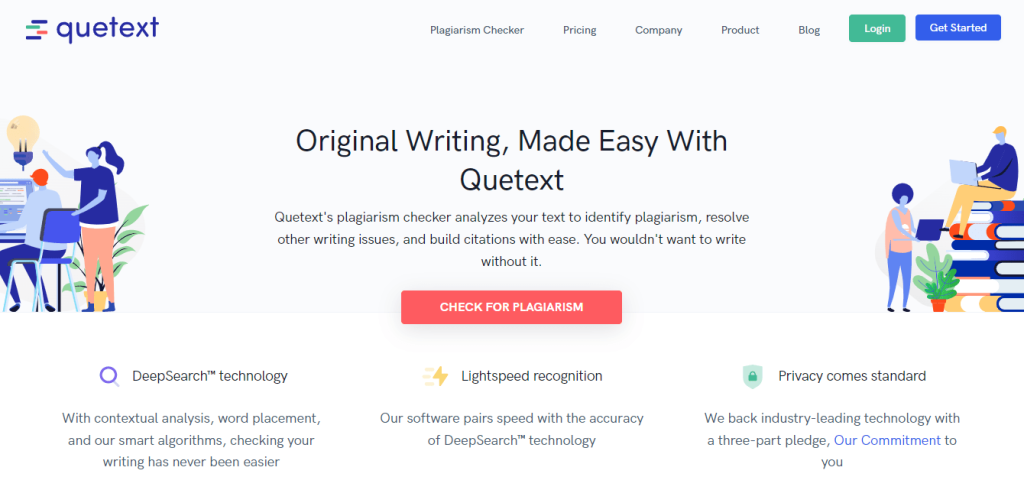 If you are looking for a fast and reliable plagiarism detector, Quetext is ideal for you!
It provides a free version that allows you to check plagiarism up to a certain character. However, you can unlock the restrictions by upgrading to the premium version.
Additionally, you can install the Chrome extension or use its online version. It caters to copywriters, students, and teachers.
Price: Free version /$8.5 per month per user.
3. Quillbot
Works better for students, Quillbot is yet another all-in-one tool.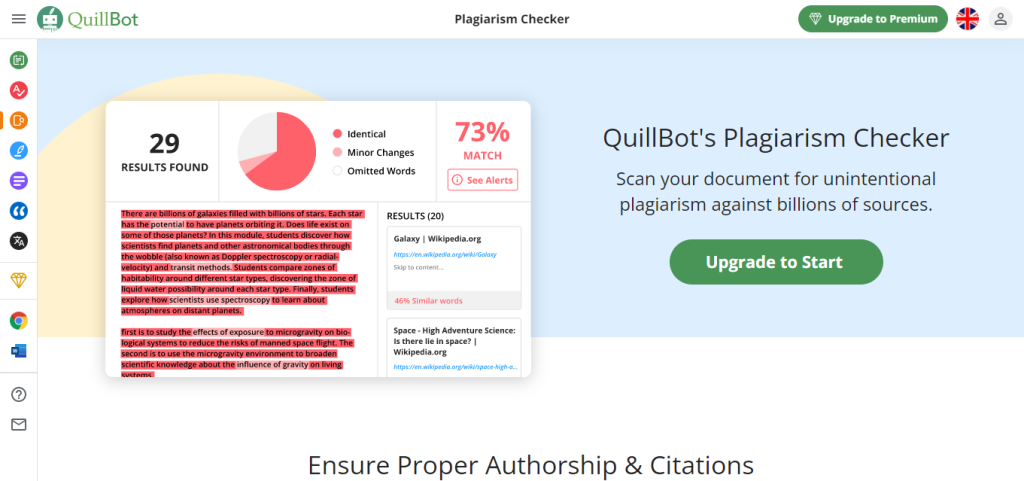 It helps you with checking grammar, citation generation, paraphrasing, translation, and checking plagiarism.
While Quillbot comes with a free version, you need a premium to access its plagiarism detector.
Similar to Grammarly, it shows the plagiarised content along with the source. The best part is its pictorial representation of the reports!
Price: $4.17/month
4. DupliChecker
If you are looking for a free tool that provides accurate results, look no further than DupliChecker!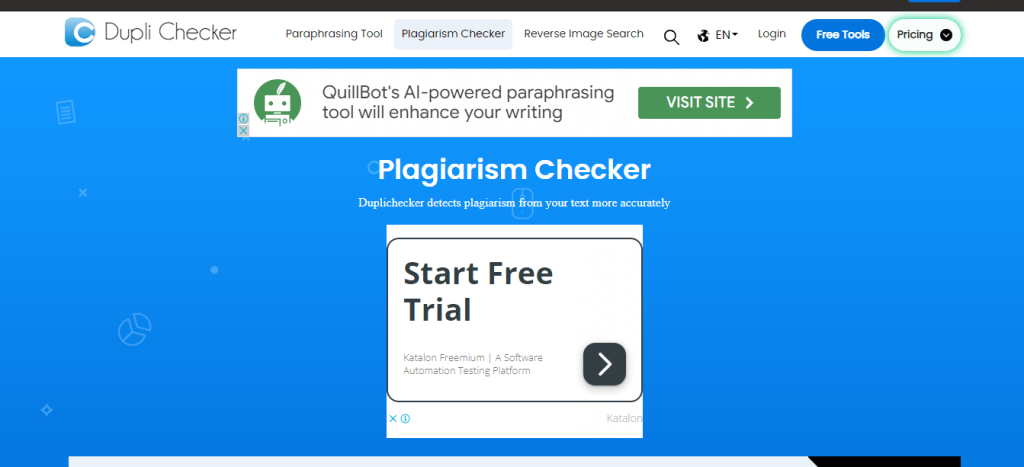 Besides offering a free plagiarism checker, it has a paraphrasing tool, reverse image search, and more.
You can also use additional tools along with DupliChecker to increase its functionality.
Related read;
Final Verdict! Grammarly Plagiarism Checker Review
Since we have reached the end of the Grammarly Plagiarism checker review, you now have an idea of how it works.
Although it works fast, it still needs much improvement to be an accurate plagiarism detector.
Grammarly's plagiarism checker is a good option for those looking to check their short texts or content. However, it doesn't work well for long-form content.
So if you are looking for a detailed checker, you can switch to alternatives!
FAQs: Grammarly Plagiarism Checker Review
Is Grammarly plagiarism checker free to use?
Grammarly offers a free version where it shows whether your text contains plagiarism. However, it doesn't show which part is plagiarized and which source. You can upgrade to Grammarly Premium to unlock its full potential.
Is Grammarly's plagiarism checker accurate?
Grammarly's plagiarism checker is not reliable. It fails to detect much-plagiarized content, even if you copy-paste it from somewhere. Moreover,  it also fails to recognize heavily edited texts. 
Is Grammarly plagiarism checker good for writers?
Unless you need to check plagiarism for short content like social media captions, I wouldn't recommend relying on it for being accurate. Instead, you can switch to other plagiarism checkers. 
Which is the best alternative to Grammarly's plagiarism checker?
Copyscape is the best and most accurate paid alternative to Grammarly's plagiarism checker. However, if you are looking for a free tool, you can use Quetext and Duplichecker.